Country Knitting of Maine 351 White Schoolhouse Rd Madison, ME 04950






Return to Home Page
To View Cart Click here:


Silver Reed Knitting Machines And Accessories


NO International Shipping for Machines

CLICK ON EACH PICTURE TO ENLARGE
Silver Reed SK155 Chunky Punchcard Knitting Machine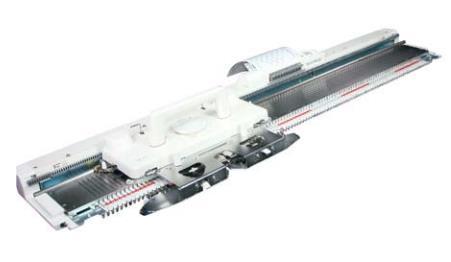 SK155 machines are on back order until Mid April

Silver Reed SK155 Chunky Punchcard Knitting Machine - Retail Price $1080.00

Silver Reed Model SK155 Chunky. 12 stitch automatic patterning
Uses Worsted and Bulky Weight Yarns for 4.5-3.5 sts per inch
Stockinet - Tuck Stitch - Slip Stitch - Punch Lace - Fair Isle - Weaving
110 needles - 9mm
This piece of quality equipment is engineered and manufactured to meet high standards of versatility and durability.
You can machine knit like a professional with the fully automatic Silver Reed SK155 punch card chucky knitting machine.
Knit stockinet, slip and tuck stitch, fair isle, weaving and punch lace. Choose mohair, crunchy textured cotton, ribbon, chenille, thick boucle, Aran, knop or slub yarn - the SK155 loves them. Select one of the punch cards included with your machine, or start your own designer collection. The SK155 Knitting Machine comes complete with accessories, punch cards (5) and instruction book. Just add yarn!!
SK280 Silver Reed 4.5mm standard gauge punchcard knitting machine






Perfect for Lace weight, Fingering and Sport Weight yarns (US #000-#5) Retail $995.00

This standard model punch card knitting machine is designed for smooth, trouble-free, operation and durability. Thanks to its punch card system and other simple features, even beginners can produce expert results with the minimum of fuss and bother on the SK280 Silver Reed Knitting Machine. Principal Stitch Types: Fair Isle, Single Motif, Punch Lace, Tuck, Slip, Weaving and Plating. Comes with 20 pre-punched pattern cards. 4.5 mm needle pitch, with 200 needles. A simple machine to get you up and knitting very quickly.
SK840 Silver Reed 4.5mm standard gauge electronic knitting machine








Perfect for Lace weight, Fingering and Sport Weight yarns (US #000-#5) Retail $1550.00

The SK840 will knit stockinette and most any hand manipulated designs. Couple it with the data cables, DesignaKnit Software and your computer and you can knit Fair Isle, Tuck, Slip, Punch Lace, Weaving, Plating and more. Plus many more features that DesignaKnit has to offer.
4.5mm (5.6 gauge) 200 needles.



SK840 Intarsia Carriage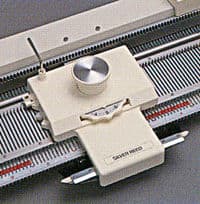 SL840 intarsia carriage model AG24
---
SK840 Lace Carriage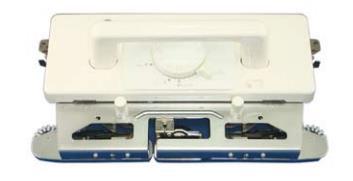 Transfer stitches for lace patterns in a single action, just like stockinette. Lace carriage knits and transfers in a single pass according to the design in your DesignaKnit Software. Capable of producing fashionable multiple lace transfer designs.

To purchase SK840 Lace Carriage click here:



---
Silver Reed LK150 Mid-gauge Knitting Machine





The Silver Reed Model LK150, for its simplicity in design and ease of use, will assure you fun and pleasure in your knitting. You will soon be able to make knitwear with all sorts of interesting patterns for sizes up to the full width of 150 needles, and because it handles a wide range of yarns from Sport (US Needle #4) through worsted weight yarns (US #9) and some heavier, you can make knitwear for the full four seasons of the year. It is extremely light weight and compact making it easy to carry and easy to store. Its specially designed roller-capped latch needle ensures smooth and quiet operation.

The carriage rests make the needle bed longer. Use them when knitting over more than 100 needles.

A helpful hint to save you some grief: We have had some problems with dime store/discount worsted weight yarns on this machine. If you plan on using alot of low quality worsted weight yarns, I highly recommend the SK155 machine. These yarns are less pliable than the quality yarns, thus cause greater stress on the carriages. The SK155 is a heavy duty machine, much more suitable for discount afghan yarns, than the LK150. Retail $440.00

This is a sponge strip for the Singer, Studio, and Silver Reed LK knitting machines such as the LK100, LK140 and LK150. Always a good idea to replace that old worn out sponge strip for better knitting capabilities for your machine. Easy to change and very well worth it. Retail: $9.00




---

Set of 10 Blank Punch Cards for the SK155 or any knitting machine that uses the 12 stitch punch cards. $18.25








---

SRP60N Ribber



The ribbing attachment will add a whole new dimension to your knitting. It will convert your machine into a true double bed knitter. The ribber doubles your needle bed size by adding a set of purl needles giving you the ability to create a variety of rib stitches 1X1, 2X2, or any configuration you choose. But it doesn't stop there it also gives you the option of creating dimensional fabric by using the tuck and slip stitch designs. Retail: $699.99

To purchase ribber click here:



---








Automatic Yarn Changer

The YC6 yarn changer allows you to change yarn color at the press of a button. It holds 4 colors of yarn ready for use. Simply press the button holding the color you want to use and the carriage will pick it up as you pass across the bed. The YC 6 is designed for use on both the single bed and the double bed (ribber added) machines by changing the head angle. You can also set this changer to automatically alternate between any 2 colors out of 4. Retail $345.00

To purchase Automatic Yarn Changer Click here:


---

Sponge Bars for Singer, Studio & Silver Reed Knitting Machines.

Standard Bed - $20.00
Chunky & Mid Gauge - $25.00







| | |
| --- | --- |
| Standard Bed Spongebars for Silver Reed, Singer & Studio | Chunky & Mid Gauge Sponge Bars |

This is a pair of side racks for the Singer, Studio & Silver Reed knitting machines. These work on the standard gauge as well as the chunky machines. I have also been told they fit on the Toyota machines. $8.50 per set.



Click here to order:



| | |
| --- | --- |
| Singer, Studio, Silver Reed 4.5mm main bed needles at .85 each | Singer/Studio/Silver Reed SK155 main bed needles |